Polish Chamber of Waste Management (PIGO) has joined the group of Patronage of the 7th International Conference Reverse Logistics – Packaging.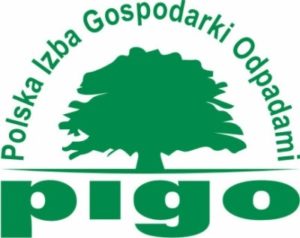 Polish Chamber of Waste Management (PIGO) is an economic self-government organization, uniting entrepreneurs dealing with collecting and managing waste and municipal hygiene, recovery organizations, technology, vehicle and devices' producers and suppliers, consulting and training companies. Statutory aims of the Chamber include representing and protecting interests of the entrepreneurs united by the Chamber, activity for enterprise's development in the field of waste management, protection and promoting healthy market competition and high,
environmentally friendly standards in the field of selective collection, recycling and harmless to the environment waste disposal.
Basing on long-term, international experiences of member companies and experts' knowledge, the Chamber forms brand opinion on every important aspect connected with economic activity and presents it to the government and local administrative authorities, in particular during parliamentary work, senate committee and other opinion-forming bodies' assembly.
PIGO is a member of European Federation of Waste Management and Environmental Services (FEAD), European Compost Network (ECN) and Union of Entrepreneurs and Employers (ZPP).

Translated by Anna Koike